Historic Route 66 (a.k.a- The Mother Road) is known for its iconic diners, restaurants, gas stations, motels, and quirky attractions. Today many travel from around the globe to drive on this iconic road, stretching from Chicago, Illinois to Santa Monica, California. The historic road ran right through Logan County, Illinois, leaving us with many Route 66 attractions. Some of the oldest sections (1926) as well as the newer sections (1940s-1970s), run through the cities of Atlanta, Lincoln, Broadwell and Elkhart. So, as you start planning your trip on the Mother Road (via car, bike, rv or truck), make Logan County one of the destinations on your journey.
If you choose to bike your way along Route 66, be sure and check out details about the trail here: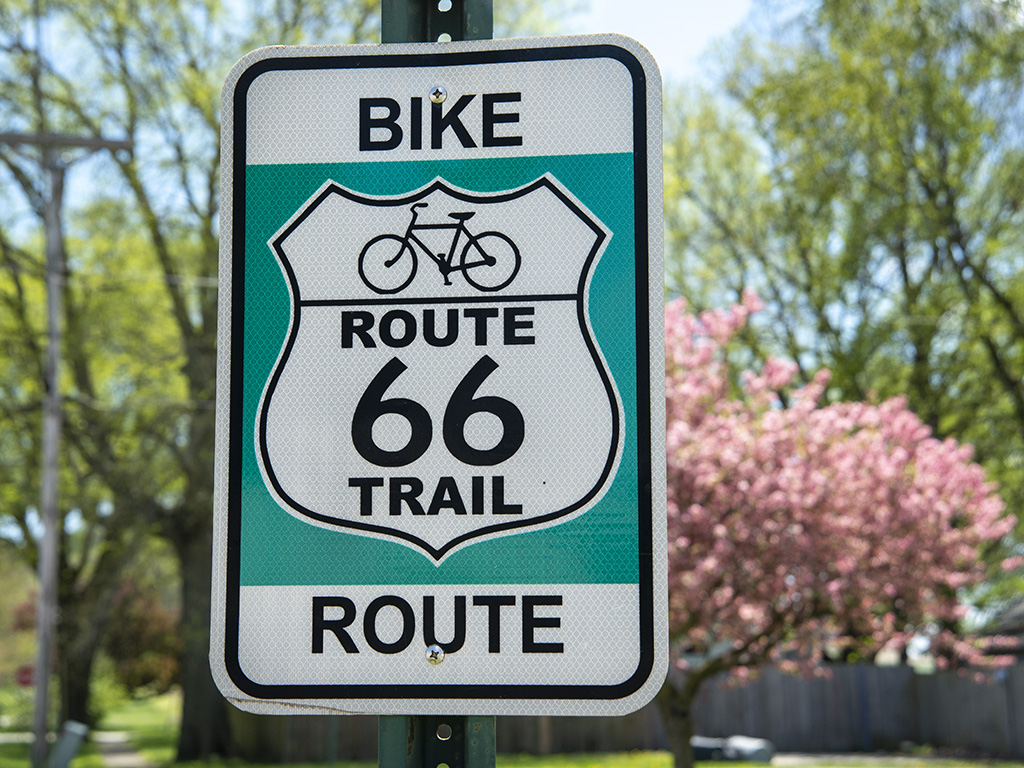 Atlanta
If heading South (from Chicago), the first Logan County Town is Atlanta
In 1926, the original Route 66 ran right through Downtown Atlanta. So, your Logan County Route 66 attractions tour will not be complete without stopping at the quaint, Historic Downtown Atlanta. Get a selfie with the 19-foot Paul Bunyan Statue, learn some Route 66 history at the Route 66 Memories Museum, relax in the Route 66 Park, or experience some vintage arcade games at the Route 66 Arcade Museum.
Lincoln
As you continue to travel on, the Center of the North and South is Lincoln, also the current county seat. Be sure and save some time for the multiple stops in Lincoln:
Elkhart
If you are heading North (from St.Louis), the first Logan County Town is Elkhart
A stop at the scenic Village of Elkhart is a must! Stroll down the downtown Governor Oglesby Street, get a bite to eat at a local eatery, shop in the vintage shops, and be sure to check out the Heritage Corner and the Route 66 Silhouette Statue to learn more about the deep-rooted history that lies in Elkhart. Save some time to travel up the scenic Elkhart Hill.
Broadwell
As you continue to head South you will then reach the small town of Broadwell
Home to the iconic Pig Hip Restaurant from 1937-1991. Make a stop at the original sign and marker that still stands today.
Check out more information below about the Route 66 attractions within each Logan County town.
Logan County Visitor Center/Historic Train Depot is an official stop in Logan County for the Route 66 Passport.
For more information on Route 66 of Illinois and the entire Route 66 check out these sites:
IL Route 66 Scenic Byway Route 66 Association of IL National Historic Route 66 Federation