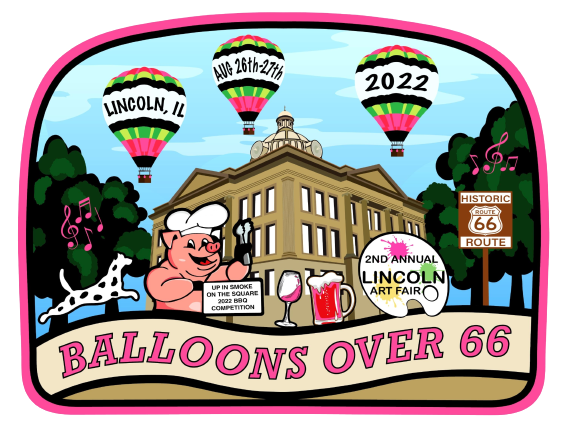 Balloon Flights / Balloon Glow Schedule
August 26th & 27th 2022!
There are 36 Balloons coming to town this year! The pilots meet soon before the launches to determine whether they will set up and launch, set up and stay tethered to the ground, or not launch at all- (depending on weather)
The flights are slated for:
Friday Evening (Approx. 6:00/6:15 PM)

Saturday Morning (Approx. 6:15/6:30 AM)

Saturday Evening (Approx. 6:00/6:15 PM)

Balloon Glow - Saturday Evening at 8:00 PM at the (4) Launch Sites Listed Below-
The glow is where the pilots set up the balloons, stay tethered to the ground and glow at night.
Would you like to help crew a balloon during Balloons Over 66 Weekend? We would love to have you! If you are interested, please come to the Comfort Inn in Lincoln, IL at 5:00 PM Friday, August 26th. Wear comfortable clothing. NO open-toed shoes, dresses, or skirts. Hope to see you there!
Launch Sites
Purchasing Flights
There will be no tethered balloon rides this year; however, rides can be purchased at

$300.00/person.

If interested, please contact a pilot directly ASAP to book your flight! I can assure you -- this will be an experience that you will NOT soon forget!
Dan Reusch -- 309-573-4641
Greg Saul -- 309-337-7927
Saturday, 27th - Itinerary
Food: Friday and Saturday
Local Eateries in Downtown Lincoln:
Mama's Arcade – Saturday 6:30AM - 1:00PM
Alley-Bi Saloon – Lunch 11:00-2:00PM Bar Open 11:00AM - 2:00AM
Guest House Coffee and Pastries – Friday 5:00 – 7:30 p.m. Saturday 11 a.m. – 2:30 p.m. and 5:00 – 7:30 p.m.
Guzzardo's – Friday 4:30 – 9:00 p.m. Saturday 4:30 – 10:00 p.m.
Sorrento's – Open 4:00 – 10:00 p.m.
Rio Grande – Open 11:00 a.m. – 8:00 p.m.
Joe's Pizzeria – Open 4:00 p.m. – 12:00 a.m.
Blue Dog Inn – Friday 11:00 a.m. – 8:00 p.m. Saturday 11:00 a.m. – 6:00 p.m.
Idle Hour – Open 11:00 a.m. – 11:30 p.m.
Flossie's – Saturday 8:00 a.m. – 2:00 p.m.
Deep Roots – Friday 8:00 a.m. – 2:30 p.m. Closed Saturday
Sir Renna Tea – Friday 10:00 a.m. – 5:00 p.m. Saturday 10:00 a.m. – 3:00 p.m.
Food Trucks: Opening Friday Afternoon!
Cheesed Out
Pat's Famous Walleye
Nuthatch Hill BBQ Company
Cullers' Fries
The Traveling Top Hat & Treats
Pauly's BBQ
Compassionate Crumbs
Gramma Nana's Kitchen
Lemonade by Megan Kenny
Lincoln Art Fair
Location: Downtown Lincoln - Lincoln Arts Institute
112 S. McLean Street., Lincoln, IL 62656
Friday, 26th 5:00PM - 8:00PM
Saturday, 27th 10:00AM - 5:00PM
Come check out the renovated Moses Pinkerton gallery on the 3rd floor, housing a LAI member show and a curated exhibition by Lease Agreement, Inhabiting Rivers, Unfinishing Circles in the main gallery. There will also be a First Student Bus outside to paint! So stop by and let your creativity and imagination run wild!
Oasis Craft & Vendor Show
Location: Oasis Senior Center
2810 Woodlawn Road. Lincoln, IL 62656
Saturday, 27th 10:00AM - 4:00PM
The Oasis will host a Craft and Vendor show during the Balloons Over 66 weekend here in Lincoln. There will be Brat/Hog dog and Corn on the Cob sold. They will be packed with vendors!
Questions?
For questions, please contact the Logan County Tourism Bureau at (217) 732-8687
or stop in at 101 N. Chicago Street., Lincoln, IL 62656
Email: assistant@destinationlogancountyil.com